What is a woman hero anyway?
Is she strong?
Is she driven?
Is she brave?
Yes.
Is she hard and calloused?
Sometimes.
Is she conventionally beautiful?
Sometimes
Is she gritty and dirty and rough around the edges?
Yes.
But she can also be articulate, classy, and well bred.
A woman hero is a woman who acts like a hero… and that means sacrifice, speaking truth to power, heart, and acting like a role model.
At least that is what it means to me.
The point is… it's subjective. And it shouldn't be limited by what one man thinks. There are plenty of male heroes of all types. And there should be lots of heroines for little girls to look up to as well.
TLDR: James Cameron and his antiquated definition of women empowerment being limited and excluding the likes of Wonder Woman is pure misogynistic BS.
Patty Jenkins laid the smack down on him pretty hard as well.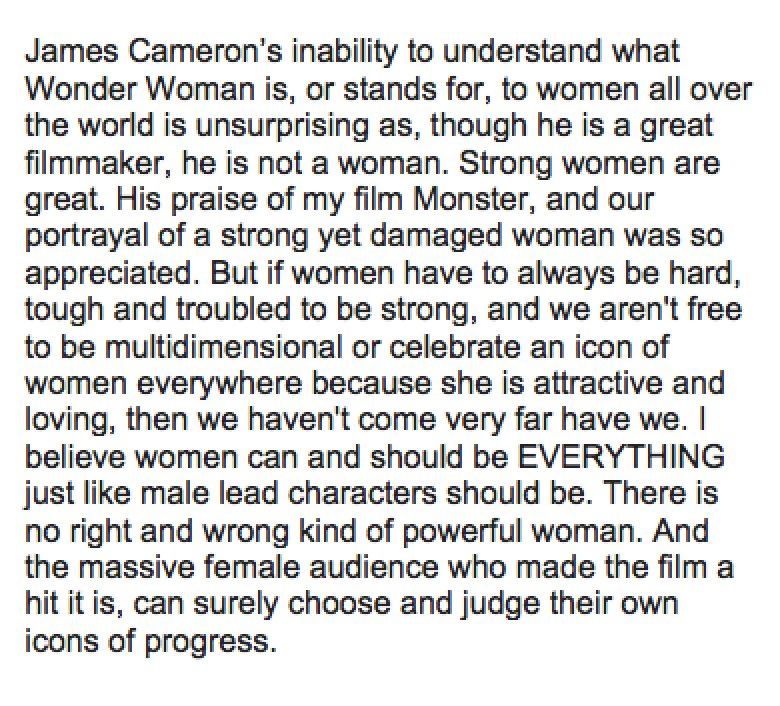 Thank you Patty.
And for fun… here are a few of my favorite heroines. And yeah, one of these is my mom.